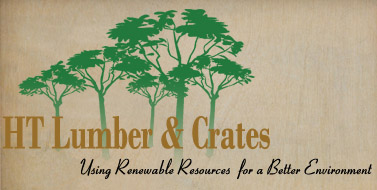 Welome to HT Lumber & Crates
HT Lumber & Crates is a division of Allenton Lumber. Founded in 1984, and until recently doing business as Allenton Lumber Company, we provide the industrial community in the greater Chicago, Rockford, Milwaukee, and Northwest Indiana areas with custom shipping solutions, pallets and heat treated lumber. Quality material, at a fair price, with an emphasis on excellent service has been, and always will be, our main focus. We offer a variety of benefits:


ISPM-15 Certification
Stocking Programs
Consultation Design
Dust Free Environment
Fax Reminders
Just In Time Delivery
Outsourcing
Own Delivery Fleet
Product Guarantee
Quality Control
Release on Demand
Our 6-Acre facility and massive HT Lumber inventory provides us with the flexibility to fill any order - from one board to truckloads - in a matter of days. Whether their need is crating, packaging, or integrating heat treated lumber into their products, our customers know that we dry stock inside what they need at all times.
For more info about how we can help you meet your ISPM-15 shipping needs, give us a call at 847 683 0200
ISPM-15 Certified for Export
Specializing in HT lumber, plywood, cut-to-size, crates, production platforms, closed loop pallets, skids, pallets, bracing, blocking and custom work.